The mission of Arabesque as a Dance Center is to to give Chicago a choice, to open its doors to misunderstood dance forms, and give adults a place to learn that`s a refuge for them alone, to utilize the art of Mid East Dance to enrich the lives of its community members through local & national dance performances as well as through weekly dance instruction.We promote our new generation of dance with Beauty, Dignity & Grace.

Address: Chicago, IL, 60618
Click here for see the full address
Website: Arabesque
Phone Number
Our goal is to help each student find the genuine dancer within with their own natural body movements, as it embraces all shapes & sizes, any age or race without regard to any preconceived notion. To bridge the gap between dance professionals in an open & friendly atmosphere, our policy is welcoming to everyone.
3-week `Buffet` style session: All of the classes offered during this session act as a one-time drop-in format, although you are welcomed to take them all. Each instructor will offer class content that does not build from one week to the next, as a sampling of the different teaching styles available at Arabesque. Each week is different--come take any classes you wish by any of our house instructors. Use this time to try the smorgasbord of offerings from whoever tickles your fancy, enabling you to choose the one(s) you`d like to dedicate a full session to.
10-week `Dedicated` session: Alternates with a 3-week session, here`s the real meat of learning! To give a full synopsis of teaching, the full `dedicated` session can offer work with props, a full choreography or combinations that may grow from one week to the next. Content will *always* vary from session-to-session so you can always walk away with something new. Regular class attendance is recommended, although drop-ins are welcome.
Belly Dance-The Fundamentals
taught by Sonya, Chellcy, & Naomi
...Teaches you a wide vocabulary of basic movements (such as figure-eights & undulations) as well as traveling steps common to Oriental dance & where in the music they are best used. We work on basic technique with full break-downs & step-combinations that can improve posture, flexibility, balance/grace & muscle isolation/control. Each week putting these new moves into combinations that can be strung together in a dance, you finish a "dedicated" session with a full routine & a strong sense of body awareness. This class is your 1st year of learning, and be aware you will always come away with something new from week-to-week, session-to-session. See Class Attire--sorry, but no skirts, as the instructors need to see knee & lower back position. Drop-ins are always encouraged.


Contact here


Address and Phone Number
P.O. Box 18175 Chicago, IL, 60618



Website: Arabesque The studio offers class in Middle Eastern Belly Dance instruction, specializing in the authentic Egyptian style, or Raks Sharki.
Mike - our private guide
in Belgium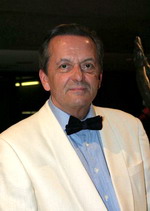 Our Private guide in Belgium has 40 years of tourism and hotel business experienced. Private guide in Belgium Mike able to recognize his guests, and to give them exactly what they expect and to take the appropriate attitude to their personal preferences and needs ( history, arts, sites, nature, local gastronomy, etc) Private tours of this guide in Belgium.
Private guide
in Belgium
is waiting
for you!!!