Amato Hair Design Salon & Spa is highly regarded, and well known in the industry, for their exception hair cutting and color work, as well as special occasion styles. Amazing looks and great guest experiences is what you will get at Amato Hair Design Salon & Spa! We go to, and bring in, the best the industry has to offer to educate our team.

Address: Tinley Park, IL, 60477
Click here for see the full address
Website: Amato Hair Design Salon & Spa
Phone Number
Our Mission is to help our service providers achieve life changing careers by teaching them to create amazing looks and experiences for our guests.
Your experience with us will be in a modern and friendly environment with competent professionals who have extensive training.
The original salon had seven design stations with a small manicure and pedicure area. Over the years, through hard work, constant dedication to the industry, and an amazing staff, they have transformed from a stylish beauty shop into a 3600 sq ft full service salon and spa. The salon features 20 design stations, a separate color area, manicure stations, and a private spa area for pedicures, facials, and body waxing.
On average, our designers complete ten times the amount of education required by the state every year. Our designers travel nationally and internationally to get the most up to date trends and styles for you our guest.
Most important, we will help you find a look that you will love, and that you will be able to recreate at home. You will receive a thorough professional consultation before we ever start any services. You will know what we are doing, why we are doing it, and how it will benefit you. Then, during the education portion of your visit, we promise to teach you what we do to make your look work for you.
You will love your look and your experience at Amato Hair Design Salon & Spa 100% guaranteed.
Our Services:
Salon Services
Once you`ve seen how great you`ll look after we`ve worked on your hair, you`ll never go anywhere else.
Women`s Hair Cut & Style
Mens Hair Cut & Style
Child`s Hair Cut & Style
Color
Highlights
Highlights per foil
Lowlights
Additional Color
Eyebrow Color
Texture
Perm
Signature Wrap Perm
Perm per rod
Straightening
Repair
Redken Chemistry System
Tiger Reconstruction
Hands & Feet
Spa Services:
Relax and rejuvenate with one our terrific spa services.
Sun Glow Body Wrap
Hot Stone Massage
Sunless Tan Treatment
Skin Repair
Makeup
Hair Removal
Bridal Packages
Bridal Elegance
Bridal Bliss
Bridal Basics


Contact here


*** 1 Review for Amato Hair Design Salon & Spa

11/12/2009 Mary De Armond Carroll Chicago, Illinois
I went to Amato Salon yesterday to try it out as a possible hair/makeup/nail location for the wedding. When I arrived, my coat was taken from me... I thought to hang up. Unfortunately, they offered to hang it up because they were going to rifle through my pockets and steal my brand new iPod Touch. When I contacted the salon and spoke to one of the owners, Brooke, she suggested that I make a police report, but that there was NOTHING they could do for me. As an aside... I received the worst manicure and pedicure of my life. The salon is DIRTY, as are the employees and, apparently, the owners. I mean... really dirty. The shelves are dusty, towels and floors dirty, etc. If the employees being thieves do not keep you away from Amato, the condition of the salon and terrible service should!
Mike - our private guide
in Belgium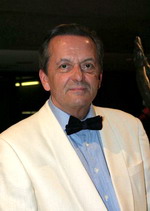 Our Private guide in Belgium has 40 years of tourism and hotel business experienced. Private guide in Belgium Mike able to recognize his guests, and to give them exactly what they expect and to take the appropriate attitude to their personal preferences and needs ( history, arts, sites, nature, local gastronomy, etc) Private tours of this guide in Belgium.
Private guide
in Belgium
is waiting
for you!!!