Branson House Bed and Breakfast is set in a beautiful large Eastlake Victorian Home in Petersburg Illinois. It stands at the top of what is known as "Brahm's Hill", and is located where once stood the home of Dr. and Mrs. John Allen, friends of Abraham Lincoln, who moved to Petersburg from New Salem.

Address: Petersburg, IL, 62675
Click here for see the full address
Website: Branson House B & B
Phone Number
This bed and breakfast is everything a traveler would want it to be.The house itself is delightful and charming. It is almost like a museum with all the antiques. A two-story square pillared porch extends to the roof line. Behind the imposing facade lie an equally imposing series of rooms. This house boasts seven marble fireplaces, four downstairs and three in upstairs bedrooms plus a magnificent wood sculptured fireplace in the main entry hallway.
In the early 1950's an elevator was installed for effortless access to the second floor bedrooms. The house has been updated with central air and heating throughout.
Branson House B&B features four guest rooms on the 2nd floor:
- Grandma Ruthie's Room
- Sylvia's Chambers
- Cyntha / Lee Guest Room with Sitting Area. Bath robes provided.
- Uncle Billy's Retreat with Day Bed w/Trundle for extra guests. Sitting Area
All rooms feature Fireplace, Queen sized bed, TV with DVD/VCR, Free Cable HBO/Cinemax, Private Bathroom, Large walk in Shower, Air conditioned, Includes Full Breakfast.
Breakfast. A full breakfast is served in the dining room between 8 and 10 am. Each morning there is a different offering of either Bluberry Pancakes, or Peach French Toast, or Belgian Waffles, or Traditional French Toast, along with Sausage, Bacon, & an egg dish.
Special Info. Free Wireless Internet Access is available throughout the house. Entire house has Central Air & Heating. DVD & VCR movies available at no charge. In the hallway of the second floor you will find a microwave, popcorn, and a mini fridge stocked with soft drinks and bottled water. Early morning coffee is available in the Butler's Pantry. Bedrooms are located on 2nd floor and have elevator access. State and corporate rates are available Monday through Thursday. Children over 10 are welcome, but should be mentioned at time of reservation for the courtesy of the other guests of Branson House. We have rooms with adjoining doors for families or groups.
No Smoking in house. No Pets.
Amenities. Discounts/specials available, Laundry facilities, Picnic grounds, Balcony, Patio, Guest refrigerator (filled), Sitting room/library, Antiques.

Activities. High second floor porch area for view of the city, quiet garden walks, and area to sit and enjoy the outdoors.
Local Area Attractions. All Abraham Lincoln Sites are near: Lincoln Presidential Museum, Tomb, Home, and New Salem State Park, the home of Young Abraham Lincoln.
Out In The Town. Theatre, Shopping district, Espresso bars and Antique shops/malls.
Rides & Tours. City tours and Winery tours.
Sports. Fishing and Golf.


Contact here


Address and Phone Number
324 W. Jackson Street Petersburg, IL, 62675



Website: Branson House B & B Branson House Bed and Breakfast is set in a beautiful large Eastlake Victorian Home in Petersburg Illinois.
Mike - our private guide
in Belgium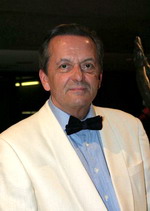 Our Private guide in Belgium has 40 years of tourism and hotel business experienced. Private guide in Belgium Mike able to recognize his guests, and to give them exactly what they expect and to take the appropriate attitude to their personal preferences and needs ( history, arts, sites, nature, local gastronomy, etc) Private tours of this guide in Belgium.
Private guide
in Belgium
is waiting
for you!!!